Educative token-review platform aiming to make the crypto-world more comprehendible & less shitty.
Contract:
0x53F042f3e809d2DcC9492dE2DbF05d1DA0EF5fbb
SHIT is GETTING HOT!
NOSHIT TOKEN!
Countless SHIT coins get released every day, bringing nothing new to the community but tons of USELESS SHIT.

From BULLSHIT promises of mastermind projects, scam coins to copycat meme tokens, it became so hard to tell the FAKE SHIT from the REAL SHIT.

NOSHIT Coin is an honest utility token that doesn't pretend to solve the world problems. It only focuses on the NOSHIT Community, with the only goal of building an attractive and profitable ecosystem.

Through educational prize-winning games and community engagement rewards, we want to educate NOSHIT takers how to tell SHIT from NOSHIT.

Community will be rewarded with TOKENS, NFTs and other PRIZES!
01
PRIZE-WINNING DAPP GAMES
Entertaining and Educative Prize Winning Games will be introduced regularly in order to keep the NOSHIT Platform as attractive as possible. Players can level up and earn rewards.
02
NOSHIT REVIEWS & AUDITS
Who can smell shit better than the poop itself. The NOSHIT Platform will review and audit new tokens based on the NOSHIT Chart, professional audit, community reviews and token owner's reply itself.
03
COMMUNITY ENGAGEMENT REWARDS
A REAL Community of NOSHIT takers is needed to keep this shit going. Members are rewarded for every activity on the NOSHIT Platform and can redeem the rewards instantly.
04
IN-GAME NFTs & NOSHIT COLLECTIONS
In-game NFTs and NOSHIT NFT Collections will be introduced regularly and awarded to the community. These items may be exchanged, given as presents, sold or redeemed for tokens.
NOSHIT can go further!
Noshit journey.
Stories, announcements and news about the journey of our cute lil poo.
No posts were found for provided query parameters.
Token Distribution
Shitonomics
The SHIT is getting HOT!
Token Name: NOSHIT  •  Symbol: NSH  •  Decimals: 9  •  Network: BSC Total Supply: 100,000,000,000,000,000 NSH Contract: 0x53F042f3e809d2DcC9492dE2DbF05d1DA0EF5fbb Slippage: 13% – 15%
8% of each transaction will go to the Treasury Fund
4% of each transaction will go to PancakeSwap Liquidity.
1% reflections back to our amazing holders.
Prize-winning Educative
Games on shitcoins
The SHIT to be DONE
Poomap
We'll do all the necessary listings, partnershits, marketing push, landing influencers and other shitty steps needed for an Ultimate SHIT Token.
GET SHIT DONE!
The NOSHIT TEAM!
Team members still being recruited. If interested, please mail us your CV & SHIT at getshitdone@noshitcoin.io
Nick
CEO
He keeps the shit warm even when it's about to cool down. Using eco-friendly energy, he will make sure to lead the community to the warmth of Uranus.
General @NoShitC
Co-Founder & General Strategist
A professional crypto scatologist, able to tell shit before it even hits the surface.
Captain @noshitter
Co-Founder & Creative Director
A seasoned sailor "su questo mare di merda", able to navigate the community throughout the cutest of all shits.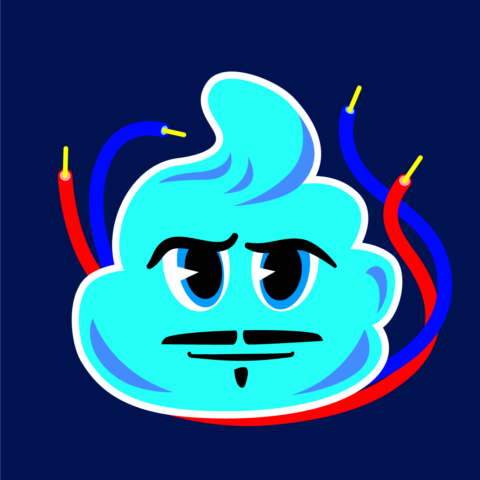 Professor NSH
Platform Developer
There's science behind shit, especially the digital one. There are PHDs for it, and our professor has two. He lectures blockchain in European universities. "His code is poetry, his AI tools will recite all the shit out of smart contracts."
Serial Shitter
Social Media Shitter
Who knows the best places to poop our NOSHIT better than the serial shitter himself. He will spread the shit on every social network sewers until NOSHIT floods the streets.
Amox
NFTologist
He touched the softest spots of all the best NFT collections out there, in order to prepare a custom strategy for our drop of our Non-Fungible Shits
Hi, I am Illy, the CEO of NOSHIT. I want to welcome and thank you for joining our community of NOSHIT takers. If you have scrolled through the website, you already know what we aim to do, and the path we intend to take. The key word here is trust, ethical behavior, and due diligence. Experience has taught me that if you are building a spaceship to the crypto moon, one has to rely on the ingenuity of the community. That is why I'll keep having regular AMA's and live video appearances, to present who we are, answer all of your questions, and discuss our next stages of growth. All the best, Illy
Coming Sooner than haters might think!
NOSHIT MERCHANDISE
NOSHIT isn't just a token, NOSHIT is a movement!
NOSHIT rebells against imposed congestion.
Let's liberate ourselves like Montezuma's Revenge, royal and explosive!
Social Shit
All the NOSHIT floating globally through social network sewage.
The content shared on this website is for informational purposes only and, thus, should not be considered as financial advice.
Trading crypto/token assets is highly risky and highly volatile, and you should never invest more than you can afford to lose. Always seek professional advice before making any investment.
The website visitor alone assumes the sole responsibility of evaluating the merits and risks associated with the use of any information or other content on the website before making any decisions based on such information or other content.
The website visitor indemnifies the website creators and all members of project creation and administration, from any responsibility regarding their financial decisions.